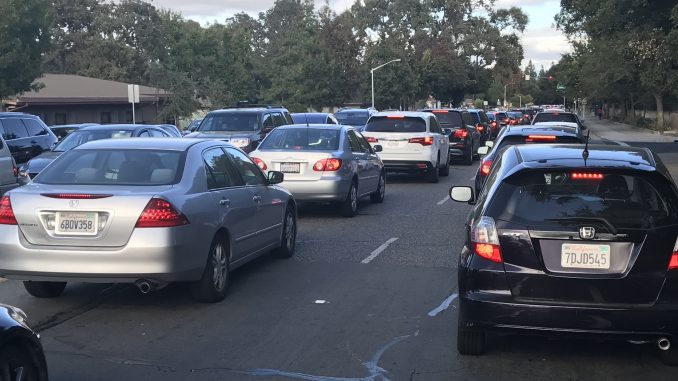 BY EMILY MIBACH
Daily Post Staff Writer
A Redwood City transportation planner and a consultant are proposing four "road diets" — where the number of car lanes on a road are reduced.
The plan, which was reviewed by Redwood City Council on Monday, includes reducing lanes on the following streets:
• Broadway from Maple Street to Charter Street (from four to three lanes).
• Middlefield Road south of Woodside Road (from four or five lanes to three).
• Jefferson Avenue from Veterans Boulevard to El Camino Real (from four lanes to two).
• Along Redwood Shores Parkway (from six lanes to four).
The proposal was made in a draft Transportation Plan that has been submitted to City Council.
Councilwoman Janet Borgens said at Monday's City Council meeting that she opposed reducing Broadway from Maple to Charter from four lanes to three.
"That would be a nightmare because of the Post Office and Smart and Final," Borgens said. "It's already dangerous, and I don't want to make it worse."
Borgens said she travels that stretch of Broadway everyday. She said that a portion of Broadway that has already been reduced is working out well. But she doesn't think a road diet from Charter to Maple would make traffic flow better.
Borgens also cautioned Senior Transportation Planner Jessica Manzi and Matt Hanes from the Fehr and Peers consulting group to approach areas near the county offices and court house differently than they would other roads in downtown Redwood City.
"It's not just people … who live here and are coming downtown," Borgens said. "Some are here for the courthouse, and not everyone can hop on the train or bus and get to the county seat."
Fewer lanes for cars, more for bikes
The proposed plan for Jefferson Avenue would reduce the four lanes to two, using the space between the two lanes for a center left turn lane. The reduction of lanes would also allow for a new bike lane along Jefferson.
Neither the proposals for Redwood Shores Parkway nor Middlefield Road were discussed at Monday's meeting, but the Middlefield Road diet would match up with the one slated for Middlefield in North Fair Oaks, where it would go from four lanes of traffic to two.
Redwood City's most high-profile road diet is along Farm Hill Boulevard, where traffic went from four lanes to two in 2015.
Residents livid over last road diet
That road diet engendered broad opposition in the community, from both commuters and residents on nearby streets who had to deal with cut-through traffic created by the congestion from the lane reduction.
Angry residents presented council with an online petition bearing 2,086 names against the road diet. In fact, Borgens in 2016 called the Farm Hill Road diet a "nightmare" for residents.
Still, council refused to remove the road diet, and now is looking at more of them.
Council members provided feedback on the plan Monday. Manzi and Hanes will take that feedback, revise the plan and bring it back to council for approval.