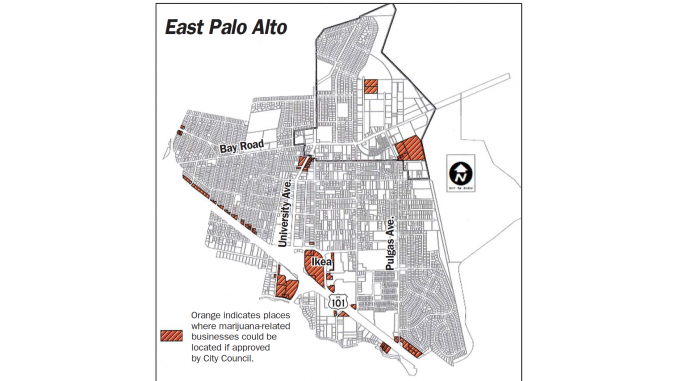 BY EMILY MIBACH
Daily Post Staff Writer
A divided East Palo Alto Council was not able to decide last night (Jan. 9) whether to allow marijuana businesses in the city, with both sides citing the city's past with drugs for their reasoning.
Since the council was split 2-2, the issue will be brought back to the five-member council when Councilman Larry Moody is present.
Mayor Ruben Abrica and Councilwoman Donna Rutherford were both staunchly against allowing cannabis businesses of any sort into the city.
"We have suffered a lot previously and this is one social movement that I'd rather not involve our city full blast in because I think it could impact our city in ways that are unforeseen, or could trigger or revive old issues," Abrica said.
Rutherford also said she does not want to see marijuana businesses, particularly stores, because she doesn't want the city to become "the place
where everyone comes to buy drugs."
Both Rutherford and Abrica mentioned the city's violent history regarding drugs, as did Vice Mayor Lisa Gauthier and councilman Carlos Romero, who favored bringing in some marijuana businesses to the city.
East Palo Alto was known for decades as a violent city, largely because of the vast amount of drugs being sold and consumed there. The violence was related to gangs that sold drugs. In 1992, the city was dubbed the murder capital of the country due to the large amount of violence spawning from drugs and gangs. Last year, however, the city had just one homicide.
Drug prevention
Romero said he favors allowing pot shops, cannabis manufacturing, cultivation and testing, and using the tax revenue that the city gets from the businesses to keep young people from getting their hands on pot.
Romero said he had heard from some teens that when an illegal medical marijuana shop was open in the city for a short period of time, that teens could get weed from people who bought at the store. Gauthier said she struggled with her decision.
"I want people to be protected if they want to indulge in (marijuana)," Gauthier said.
Gauthier ultimately said she wants to look into allowing testing facilities for marijuana and cannabis manufacturing businesses to be allowed in the city.
Marijuana businesses other than retailers
When council reconsiders allowing cannabis businesses, City Attorney Rafael Alvarado will present the council with more information on the businesses Romero and Gauthier were interested in learning more about.
If East Palo Alto allows for cannabis manufacturing businesses, it would join San Carlos. San Carlos in October allowed for all cannabis businesses except for pot shops to take root in the city.
Burlingame, Menlo Park, Redwood City and Mountain View have all adopted similar temporary bans on pot businesses, but have left the door open for
possible future pro-marijuana regulations.
Mountain View's City Council has expressed interest interest in allowing pot shops, but did not set up regulations before the state law went into effect on Jan. 1.
Redwood City, which is open to the idea of pot stores, is expected to look at allowing some types of marijuana businesses this year.
Belmont, Palo Alto, San Mateo and Los Altos have all nixed pot business in town.