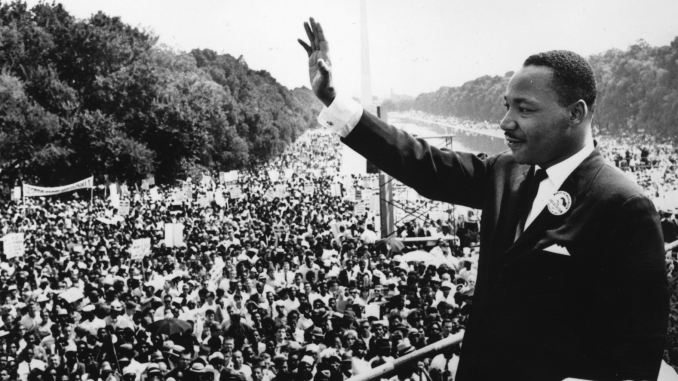 Several events are planned on Monday (Jan. 15) to celebrate Martin Luther King Jr. Day 2018.
• A Day of Service is scheduled from 11 a.m. to 2 p.m. at Mitchell Park Community Center, 3700 Middlefield Road, Palo Alto. Sponsored by the city and Youth Community Service, there will be kids activities, live performances, a MLK Legacy display, an exhibition of King papers and on-site service opportunities. Visit the Youth Community Service website for more information.
• Volunteers can help plant trees in honor of Dr. King. The city of East Palo Alto in partnership with the tree advocacy group Canopy will plant trees from 9 a.m. to 12:30 p.m. The group will plant native trees, restore natural habitat and prepare an area for a future community orchard at the new Rich May Memorial Field. Meet at St. Francis of Assisi Church, 1425 Bay Road, East Palo Alto. For more information, go to canopy.org.
• The Peninsula Peace and Justice Center is planning to form a "human billboard" from noon to 1 p.m. at El Camino Real and Embarcadero Road to protest President Trump's comments on Thursday about Haiti and Africa. Center director Paul George said demonstrators will hold signs spelling out "RESIGN" and banners saying "Not Our President" and "Love Trumps Hate."
• The Caltrain NorCalMLK Celebration train will run today, taking people to the MLK celebrations in San Francisco, but the free tickets for the trip have run out. Caltrain will be running on a regular weekday schedule, however.
• Numerous events are scheduled in San Franicsco including a march that starts at the Caltrain station at 4th and King streets at 11 a.m. An MLK2018 Health and Wellness Festival begins at 11 a.m. in the Yerba Buena Center for the Arts, 701 Mission St. At noon, the MLK Liberation Film Festival begins, also at Yerba Buena. At 3 p.m. at Yerba Buena will be a panel conversation on the topic, "Making Government Work for You."
Because MLK day is a national holiday, the following closures are taking place Monday.
• All city, state and federal offices are closed.
• No postal service.
• Schools, closed
• Most banks closed
• Stock market, closed
• Libraries, closed
• Garbage collection, regular service
• Caltrain, regular weekday service
• VTA, regular weekday service
• SamTrans, regular, non-school day schedule