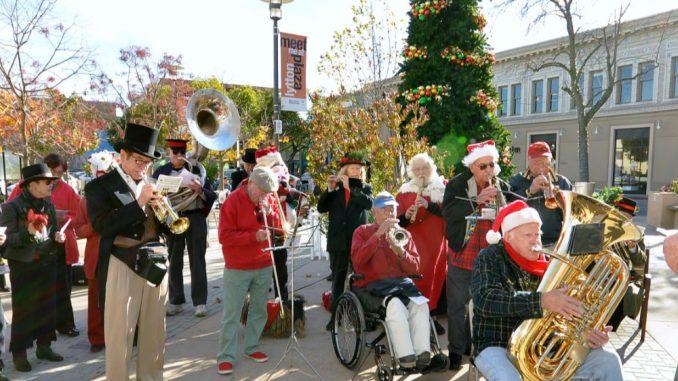 This story was originally published in the Post on Jan. 2
BY EMILY MIBACH
Daily Post Staff Writer
The Los Trancos Woods Community Marching Band, a colorful, freewheeling group based in Portola Valley, is collecting instruments to give to Santa Rosa musicians who lost theirs in the Wine Country fires.
Patter Hatfield, the band's drummer, said he awoke early one day after the fires in October with the idea to donate a cello he never learned to play and other instruments to musicians in Santa Rosa.
"I started thinking, what if I had saved up all my money and got the TV I wanted and it went up in smoke in a few seconds?" Hatfield said about his desire to help the North Bay fire victims.
Hatfield told a former classmate, who now lives in the North Bay, about his idea and she connected him with the manager of the Santa Rosa Youth Orchestra, which is associated with the Santa Rosa Symphony.
Hatfield said they loaded up the back of the manager's van with banjos, tubas, guitars, amplifiers, trombones, clarinets, cellos and many other instruments. He said he lost count of how many instruments were donated.
Hatfield said people are still giving his band instruments for fire victims and he will be scheduling another donation to the youth orchestra.
Once the orchestra tells him it has enough instruments, he said he will look to make donations to musicians affected by the fires in Southern California.
The Los Trancos Woods Community Marching Band, a playful group that has a juggler, baton twirler and doesn't require practicing, was started in the Los Trancos neighborhood of Portola Valley in 1960. The band performs multiple times a month, including Dec. 16 at the Yuletide Concert at Lytton Plaza in Palo Alto.
Email band member Jim Harvey at ltwcmb@jimharvey.org to find out how to donate instruments.