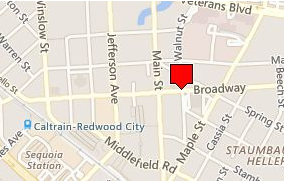 By the Daily Post staff
Redwood City police said one of its officers shot and killed a man who fired a number of shots at officers this afternoon outside the Wells Fargo Bank at 1900 Broadway.
The man who was killed has not been identified by name. Police described him as an Hispanic man in his 30. The officer who shot him also hasn't been identified yet.
The episode began in the 2 o'clock hour when Redwood City police 911 operators got a call from a woman who said there was a man holding a black handgun pacing by the Wells Fargo ATM.
Police arrived and said they attempted to engage the man in a conversation to deescalate the situation.
"The male was not responsive to the officers' attempts to engage him in a peaceful surrender," police said in a statement. "Officers tried speaking with the male in both English and Spanish for several minutes, but the suspect continued to move back and forth with his finger on the trigger of the gun and did not respond to the officers continued requests to disarm himself."
Additional officers arrived and began pulling out what police said were "less lethal weapons."
"However, before those resources could be utilized, the suspect, without warning, took a combative stance, raised his gun, and fired an unspecified number of shots in the direction of the officers. Officers immediately responded with lethal force and the male was incapacitated," the police statement said.
Police administered first aid and CPR until an ambulance could arrive. But medical personnel from the Fire Department and AMR ambulance pronounced the man dead.
As is customary in such cases, all of the officers involved were placed on administrative leave while the shooting is investigated. The San Mateo County District Attorney's office will conduct the investigation.
It wasn't immediately known if the officers who responded to the call were wearing cameras. In November 2016, Redwood City Council approved a plan to equip all of the city's 96 sworn police officers with body-worn cameras by Dec. 29, 2017 — one day before today's shooting.
The shooting also comes 19 days after the retirement of Police Chief J.R. Gamez. Deputy Chief Gary Kirby is serving as interim police chief while a search for Gamez's replacement takes place.
The last time a Redwood City police officer was involved in a fatal shooting was on March 12, 2017 in a business park in the 200 block of Penobscot Drive. Detective Joseph O'Gorman fired at Robert Lee Eichen, a domestic violence suspect who had fired a shot into the air before he was confronted by police. Eichen, 43, had a blood-alcohol content of 0.43%, five times the legal limit for driving. An investigation by the District Attorney was not able to determine whether Eichen died of a self-inflicted gunshot wound or whether he died from the round fired by O'Gorman. DA Steve Wagstaffe praised O'Gorman for his "calm and steady demeanor, and professionalism under such stressful circumstances."