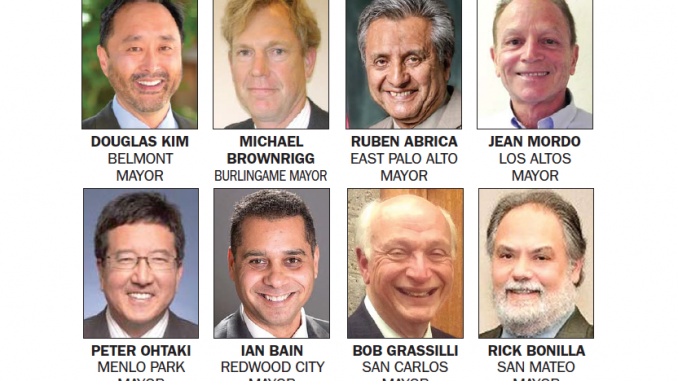 BY EMILY MIBACH
Daily Post Staff Writer
Most of the city and town councils in the Post's circulation area have picked their new mayor and vice mayor for 2018, half of which are minorities.
This is also true for the whole of San Mateo County, as pointed out on Twitter by David Burruto, chief of staff for county supervisor Dave Pine, with 10 of the county's 20 cities being led by minorities.
"With new mayors in place for each city for 2018 there is a significant emerging phenomenon. A full one half of the mayors in San Mateo County are from underrepresented communities including mayors of Filipino, Latino, African-American, Arab, Korean, Chinese and Japanese ancestry," Burruto tweeted.
A likely first for the county
Burruto also tweeted that this is likely the first time in the county's history where the county is led by "such a diverse range of elected officials."
Five cities in the Post's circulation area will have mayors who are minorities: San Mateo, Belmont, East Palo Alto, Menlo Park and Redwood City. The mayors are Asian, Latino and African American.
Vice mayors in six of the Post's cities are women, two who are African American and one who is Asian American.
Three cities have not picked their mayors yet: Palo Alto, Mountain View and Atherton.
Atherton will be picking its mayor today, who will likely be Cary Wiest. Mountain View and Palo Alto will be electing their new mayors in January. Lenny Seigel will likely rotate into the mayor's seat in Mountain View while Liz Kniss, currently vice mayor of Palo Alto, may become the city's mayor.
If Kniss becomes mayor, she would be the only woman mayor in the mid-Peninsula in 2018. Palo Alto City Council will pick its mayor and vice mayor on Jan. 8.
Vice mayors don't always advance
But it's not a sure thing that Palo Alto's mayor will be the previous year's vice mayor. There have been 23 times in the past 52 years when the vice mayor didn't become mayor, most recently in 2016 when then-vice mayor Greg Schmid was passed over for mayor in favor of Pat Burt.
In most cities this year, however, the vice mayor of the city became mayor.
The only city where this didn't occur is in San Carlos after it was announced that ethics investigations were requested for three of the five councilmen, so the council decided to keep Mayor Bob Grassilli in his post until next year.
While council members fight for the job of mayor, the role isn't as powerful as one might think.
The mayor is a council member who has no more votes on council than any other council member, and does not have special authority to command city employees. The mayor helps set the agenda for upcoming council meetings, chairs the city council meetings and represents the city in events such as ribbon-cuttings. In addition, when there's a major crisis, the mayor becomes the city's de facto spokesman to the national media.
Belmont
Mayor: Douglas Kim
Vice Mayor: Davina Hurt
Former Mayor: Charles Stone
Burlingame
Mayor: Michael Brownrigg
Vice Mayor: Donna Colson
Former Mayor: Ricardo Ortiz
East Palo Alto
Mayor: Ruben Abrica
Vice Mayor: Lisa Gauthier
Former Mayor: Larry Moody
Los Altos
Mayor: Jean Mordo
Vice Mayor: Lynette Lee Eng
Former Mayor: Mary Prochnow
Menlo Park
Mayor: Peter Ohtaki
Mayor Pro Tem: Ray Mueller
Former Mayor: Kirsten Keith
Portola Valley
Mayor: John Richards
Vice Mayor: Ann Wengert
Former Mayor: Craig Hughes
Redwood City
Mayor: Ian Bain
Vice Mayor: Diane Howard
Former Mayor: John Seybert
San Carlos
Mayor: Bob Grassilli
Vice Mayor: Cameron Johnson
Former Mayor: Bob Grassilli
San Mateo
Mayor: Rick Bonilla
Vice Mayor: Diane Papan
Former Mayor: David Lim
Woodside
Mayor: Chris Shaw
Vice Mayor: Daniel Yost
Former Mayor: Thomas Livermore