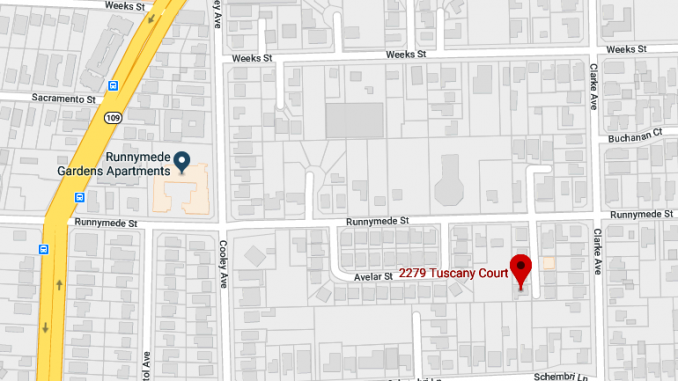 BY EMILY MIBACH
Daily Post Staff Writer
The two East Palo Alto women found dead of gunshot wounds in an apparent murder suicide were both talented computer scientists, a former employer said yesterday (Dec. 14).
Police were called to 2279 Tuscany Court, the home of Selene Kalista Makarios, 57, and Heather Lauren Downs, 50, at 9:26 a.m. Wednesday (Dec. 13) after neighbors heard gunshots. The two were dead when officers arrived. It is still not clear which woman was the suicide victim and which one was murdered.
"What a waste of two great and talented people. It's very shocking." said Robert Fitzwilson, president of the Portola Group, a wealth management firm in Menlo Park.
Makarios and Downs worked for Fitzwilson in the late 1990s and early 2000s.
Makarios was the chief technical officer for the Portola Group's software arm, and Downs worked with her.
"Heather was a brilliant programmer and Selene could do anything with a computer," Fitzwilson said.
Fitzwilson and Makarios have four patents together and share two with Downs. All of the patents were for work Downs and Makarios did while working for the Portola Group.
In addition to being work partners, the two were also domestic partners and shared the house on Tuscany Court, which was bought by Downs in 2010, according to county records.
After working for Fitzwilson, Makarios was a research associate in Stanford's Computer Science Department. She worked under Richard Fikes from 2003 to his retirement in 2006.
Fikes said he and Makarios had a close working relationship, where she was a "prominent member" of a research team creating an artificial intelligence system for the Defense Advanced Research Projects Agency or DARPA.
'A wonderful person'
Makarios told Fikes she was "devastated" when he announced his retirement in 2005. She also created Fikes' Wikipedia page, saying he needed to have one.
"She was a wonderful person and always coming up with little surprises," Fikes said.
Fikes said Makarios was "incredibly smart and brilliant." Fikes also said she was very forthright and blunt about her opinions and analysis of projects being worked on.
Fikes last talked to Makarios about six weeks ago, when she asked for a job recommendation for a company that had used Fikes as a consultant.
"She seemed to be in a positive mood from what I could tell from the email exchange," Fikes said.
Involved in soccer
Downs was part of the soccer community in the area, being a member of both the Palo Alto Adult Soccer League and the Menlo-Atherton Adult Soccer League. She was on the board of directors for the Menlo-Atherton team, and was in charge of uniforms and equipment.
"Our soccer community is deeply saddened by the news," said Menlo-Atherton league president Nancy Nuckolls.
East Palo Alto police said yesterday that it is very likely the death of Downs and Makarios is a murder-suicide, which will be confirmed as the investigation in the case goes on.
This is the first murder of the year in East Palo Alto, which had the highest murder rate in the country due to rampant gang violence 25 years ago. The last murder in East Palo Alto was on Nov. 27, 2016.