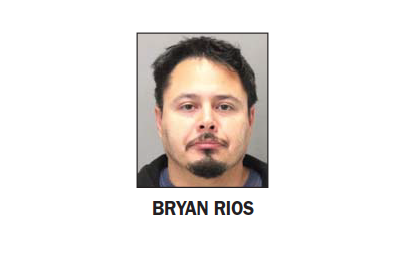 BY ALLISON LEVITSKY
Daily Post Staff Writer
A Mountain View first-grade teacher has been arrested for allegedly sexual assaulting several women, police said today (Dec. 4).
Bryan Rios, 36, was arrested in Santa Clara on Wednesday (Nov. 29) in connection with multiple counts of sexual assault, including forced sodomy and forced oral copulation, against adult female acquaintances.
Rios, a Santa Clara resident, is said to have committed such an act on Oct. 22 on the 100 block of Monroe Street. The women he allegedly assaulted reported it to police, according to Santa Clara police Lt. Dan Moreno.
Rios is accused of assaulting between two and four women in total, with no known juvenile victims, Moreno said. The investigation is ongoing and police are asking any other victims to come forward.
Rios was placed on administrative leave from the Mountain View Whisman School District, where he taught at Theuerkauf Elementary School, on Nov. 9.
In an email to parents Friday evening, Theuerkauf principal Ryan Santiago said that Rios would remain on leave indefinitely.
The school board is set to consider disciplining or firing an employee in closed session at its meeting Thursday, but it hasn't been made public whether Rios is the employee in question.
Danielle Kosiorek, who taught first grade at Monta Loma Elementary School this fall, has been assigned to take over Rios' class for the rest of the school year, beginning Jan. 8, Santiago said.