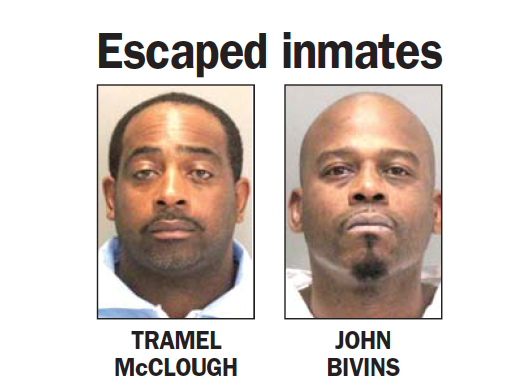 BY ALLISON LEVITSKY
Daily Post Staff Writer
Understaffing and poor security at the Palo Alto courthouse allowed for the escape of two inmates, leaders of both unions representing Santa Clara County sheriff's deputies told the Post yesterday.
"From a security perspective, Palo Alto's a nightmare," said Roger Winslow, a deputy assigned to a courthouse and vice president of the Santa Clara County Deputy Sheriff's Association, or DSA.
It's been radio silence from the Santa Clara County Sheriff's Office since Tramel Leon McClough, 46, and John Penn Bivins, 47, both of East Palo Alto and facing long sentences for armed robbery, broke loose on Nov. 6. Sheriff Laurie Smith wasn't available for an interview yesterday.
Winslow primarily blames the escape on understaffing, which he said has been an issue since 2011 or 2012. Currently, DSA-represented deputy positions have about 79 vacancies. Unlike at the Hall of Justice in San Jose, where inmates are led through a tunnel from the Main Jail next door, shackled inmates are led through public hallways at the Palo Alto courthouse.
Following the escape, one or two new deputies have been reassigned from the Hall of Justice in San Jose to the Palo Alto courthouse, he said.
The two also shouldn't have been housed near each other, according to Winslow and Lt. Amy Le, president of the Santa Clara County Correctional Peace Officers' Association.
'Lots of time to plan'
"Escapes don't happen overnight. Escapes happen when people have lots of time to plan," Winslow said.
Le said both were held in the same housing module, M5, at the low-to-medium security Elmwood Correctional Facility in Milpitas.
Inmates in the same module see each other at mealtimes and during unstructured program time, when inmates can work out, read the paper or watch TV.
A handcuff key was found outside the courthouse after the two broke free from deputies in the public hallway where they were being led into a court hearing, running downstairs and getting into a waiting Toyota Camry allegedly arranged by Rene Hunt, 54, of East Palo Alto.
A block or so away, the two ditched the Camry and got into a U-Haul allegedly rented by Marquita Kirk, 44, of Sunnyvale, McClough's longtime girlfriend who was arrested along with Hunt the next day.
How did they get the key?
Le said there are countless ways to smuggle contraband into the jails, including by visitors. Elmwood has even seen contraband thrown over the fence, Winslow added.
The handcuff key could have been tucked into the lining of an inmate's pants or sock. Winslow said such a small key wouldn't even set off the metal detector at the courthouse.
When deputies deliver paperwork to inmates, they make sure to remove any paperclips, since they can be used to pick handcuffs, Le said.
Winslow said he had personally picked open a set of handcuffs using a paperclip.
A key could also have been smuggled in an inmate's mouth or another body cavity. Deputies conduct regular pat-downs and strip searches at the time of booking, but cavity searches aren't performed in the jails, Le said.
And sometimes, inmates aren't searched when they arrive at the courthouse from jail, Winslow said. It's standard procedure to conduct a search when inmates arrive, but Winslow said that inevitably, it's not done 100% of the time.
Body scanner wanted
Le said she wanted to see the Board of Supervisors approve the funds for a body scanner at the jails.
"That will help prevent criminals from bringing handcuff keys, drugs or weapons inside the facility," Le said.
The two inmates were arrested in February after allegedly holding up a Sunnyvale Verizon cellphone store at gunpoint. McClough, a three-striker, was facing a life sentence if convicted. Bivins faced up to a 25-year sentence. Their whereabouts are still unknown.