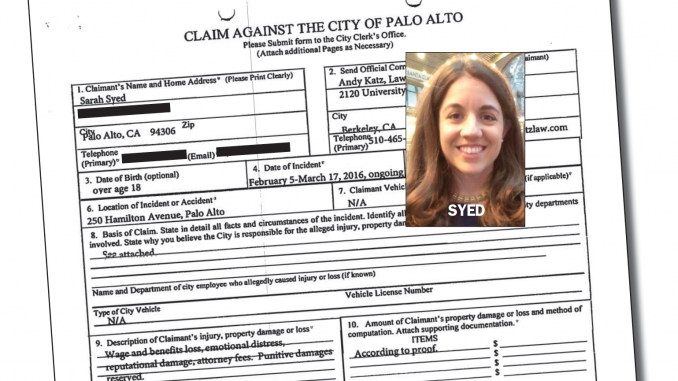 BY ALLISON LEVITSKY
Daily Post Staff Writer
A former senior transportation planner has filed a claim against the city of Palo Alto, alleging sex discrimination and whistle-blower retaliation.
Sarah Syed, 37, filed the claim on Aug. 4, 2016, six months after she says she was wrongfully fired with "malice, corruption and fraud" on the part of the city. She was hired in April 2015.
City Council discussed the claim during an hour-long closed session on Monday.
Syed claims that the city's Director of Planning and Community Environment, Hillary Gitelman, "maliciously induced (Syed) to accept employment at the city under false pretenses."
The claim also contends that the city's hiring of Jessica Sullivan as Parking Manager in October 2013, and Sullivan's promotion to the position of Planning Manager of the Transportation Division in February 2015, constituted "negligent and reckless hiring, and injured Ms. Syed in the course of these events."
Retaliaton claimed
Sullivan's promotion, Syed says, violated the city's Equal Employment Opportunity policies. Syed says she faced retaliation for reporting the violation. Sullivan was hired and promoted before Syed's hiring.
Sullivan, whose LinkedIn profile says she developed the city's Downtown Residential Preferential Parking District, left the city in April 2016 for a job as a Real Estate Project Executive with Google.
The city's Chief Transportation Official, Josh Mello, is also named in the claim as having "made false representations to Ms. Syed following her six-month performance appraisal."
Disparaging information
Syed also claims that on March 17, 2016, Mello wrongfully disclosed confidential and other disparaging information about Syed's employment, injuring her professional reputation.
According to Syed's website, while with the city, she oversaw bike and pedestrian implementation and advanced community outreach, leading public workshops and serving as the Transportation Department lead on the development of a community mobile app.
Syed, Gitelman and Mello all declined to comment on the claim. Pursuant to a tolling agreement signed by both sides to extend the statute of limitations, Syed has until Nov. 3 to file a lawsuit. She had not done so as of yesterday.