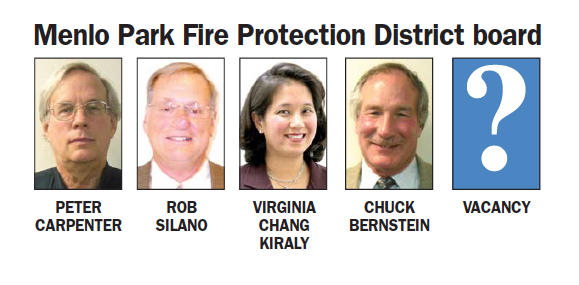 BY EMILY MIBACH
Daily Post Staff Writer
A battle royale has erupted on the Menlo Park Fire Protection District board as members attempt to fill a vacancy on the five-member board.
The four members met on Sept. 19 to interview seven candidates for the opening and board President Peter Carpenter wanted a decision that night on the replacement. But directors Chuck Bernstein and Virginia Chang Kiraly balked at that idea, asking for more time.
The meeting became heated. Director Rob Silano questioned whether Kiraly, in asking for more time, was prepared for the meeting. Kiraly accused Silano of being a puppet for Carpenter.
The board split 2-2 over whether to vote on Sept. 19, which postponed the decision until tomorrow night (Oct. 17).
In the meantime, Carpenter — who was upset that a decision wasn't made on Sept. 19 — has lashed out at Kiraly a couple of ways.
First, he put an item on tomorrow's agenda about "how to improve board performance," which might allow directors to air their grievances about one another.
Carpenter is also raising questions about whether Kiraly can serve on two different elected boards — the fire district and the San Mateo County Harbor District.
The question seemed to have been settled in 2015 when Kiraly was appointed to the harbor district. At that time, the harbor district's attorney, Steven D. Miller, said the two offices were not incompatible and it was legally OK for her to be on both boards. Kiraly obtained other legal opinions saying the same thing.
But after the Sept. 19 meeting, Carpenter sent out an email to several recipients that contained, as an attachment, a letter from a Kiraly critic that asks the state attorney general to look into the question of whether she could serve in the two offices.
Carpenter hadn't previously raised any concerns about Kiraly holding dual offices until after the heated Sept. 19 meeting.
If the fire board splits 2-2 on an appointment tomorrow, the decision will go to the five-member San Mateo County Board of Supervisors.
The board is trying to fill the seat of Rex Ianson, who resigned Aug. 31 and is moving out of state.
Director Silano said tomorrow's vote will be among the hardest decisions he's had to make on the board, as all seven candidates are qualified for the seat, but he is "pretty sure" the board will be able to pick someone, even if compromises have to be made.
Silano denies he's a puppet
In response to Kiraly's claim that Silano is Carpenter's puppet, he said, "No one is going to tell me how to vote."
Kiraly said she is concerned there may be a 2-2 split. She said it's an important decision since fire board members are typically elected, not appointed. The district serves serves Menlo Park, East Palo Alto, Atherton and the unincorporated San Mateo County areas of West Menlo Park and North Fair Oaks.
Director Bernstein said he is also worried about a 2-2 split and he said he is trying to think of a way to improve the board's voting process.
The board had considered using a paper ballot where they all nominate someone, eliminating anyone who was not nominated, and vote until someone is picked. But Bernstein is concerned that this method might result in an impasse.
Diversity
Another issue facing the board is a lack of representation from East Palo Alto and North Fair Oaks, which have a higher percentage of Latino and black residents than Menlo Park and Atherton. The Menlo Park City Council, under threat of a lawsuit over a lack of representation from the Belle Haven neighborhood, is considering whether to switch to district elections, where instead of electing the entire council at large, residents in five districts would elect just one council member to represent them. The Sequoia Union High School District decided earlier this year to switch to district elections.
The fire board has two Menlo Park residents (Bernstein and Silano), one Atherton resident (Carpenter) and one West Menlo resident (Kiraly). Of the seven applicants for the open seat, five live in Menlo Park, one in Atherton and one in East Palo Alto.
The seven candidates are:
• Sean Ballard, a Menlo Park native, is the CEO of Eigenvector Capital, an investment consulting firm.
• Scott Barnum, a Menlo Park resident, is the CEO of a supplement company called Black Brain Health and chairman of the Atherton Disaster and Preparedness Team.
• Cynthia Bosworth, a Menlo Park resident, is a retired Hewlett-Packard manager and a resident representative on the district's Emergency Preparation Committee.
• Michael Hoff, an Atherton resident, is a regional manager for Mizuho, a medical supply company.
• Robert Jones, an East Palo Alto resident, is executive director of the East Palo Alto Community Alliance and Neighborhood Development Organization.
• Stephen Nachtscheim, an Atherton resident, was a Menlo Park Fire Protection District Board member from 2009-2013.
• Jeff Pallin, a Menlo Park resident, is the dean of workforce and economic development for the San Jose Evergreen Community College District.
The board will meet tomorrow at 7 p.m. at 300 Middlefield Road in Menlo Park.