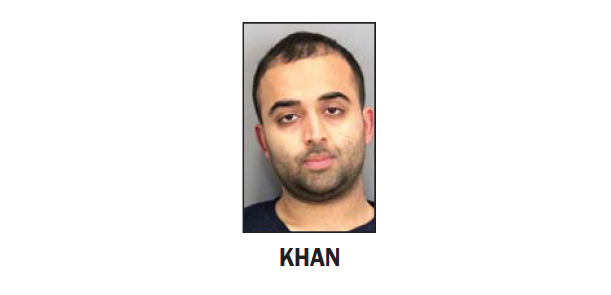 BY ALLISON LEVITSKY
Daily Post Staff Writer
A Palo Alto man has been found guilty of arson after he set his ex-boss's house on fire in the Palo Verde neighborhood last year.
Muhammad Hassan Khan, 27, was convicted by a jury on Sept. 6 of arson of an inhabited structure or inhabited property by use of a device designed to accelerate the fire.
Khan set the fire around 6:19 a.m. Jan. 9, 2016 at the home of Sanjay and Yasmin Shirole at 3458 Kenneth Drive. A fire captain investigating the blaze, which injured Yasmin Shirole, said someone had thrown a Molotov cocktail at the house.
At the time, Sanjay Shirole, 58, had just left a job as vice president and global head of HanaHaus, an SAP-affiliated cafe and workspace targeted at tech entrepreneurs at 456 University Ave. According to court documents, Shirole had been having issues with Khan.
Khan, a self-avowed graduate of the College of William and Mary, had been to Shirole's home before. He took a leave of absence from his position in March 2015. In November 2015, Khan arrived at HanaHaus but Shirole escorted him out.
In late November 2015, someone wearing a mask and a striped shirt triggered the alarm at HanaHaus by trying to get in with a key, but typing in the wrong key code. That person then released several cockroaches into the building, Shirole said, adding that he believed Khan was the masked man.
Khan faces up to eight years in prison for the offense.
Khan was arrested in 2013 for allegedly hitting a man he didn't know with a glass at Los Gatos Bar and Grill, but that case was dismissed. He is set to appear in court in Palo Alto on Oct. 12.