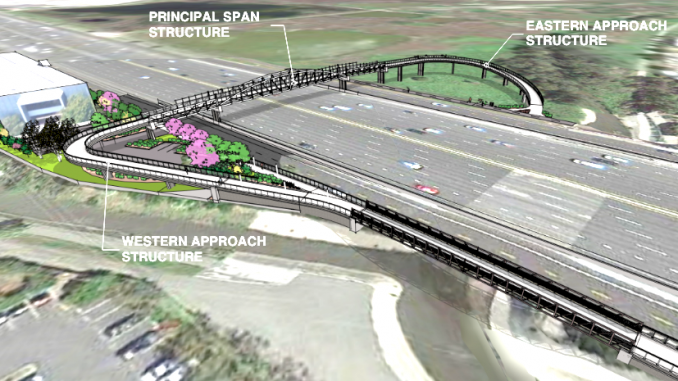 BY ALLISON LEVITSKY
Daily Post Staff Writer
If the city of Palo Alto builds a bridge over Highway 101 that could get tech commuters out of their cars, should Google pay for it?
The city's Planning and Transportation Commission voted 6-0 Wednesday to recommend the City Council approve the project, and briefly debated a spontaneous idea to install signs guiding pedestrians and cyclists to Google, LinkedIn and other big tech campuses in the area. The bridge would be north of San Antonio Road.
Commissioner Eric Rosenblum introduced the idea, recalling that when he worked at Google, it took him several bicycle trips to find his way to work. When he encouraged his co-workers to bike to work, he observed that a major barrier was a "reticence to (bike through the area) when it takes time to figure out where you're going."
Objection
But Commissioner Przemek Gardias objected to the idea, saying that any signs installed by the city government should promote interesting sites in the city. Any signs pointing to tech companies amounted to "corporate advertisement," he said, and should be funded by the tech companies themselves if they are installed.
If not, tech companies wanting to encourage employees to bike to work "will find their way, I'm sure," Gardias said. Rosenblum disagreed that the signs would be ads, explaining that "the purpose of building the bridge is to encourage cycling and to get people out of their cars, if possible."
Funding
Google pledged a $1 million contribution to the project last year. The $14 million project is also funded by $4.35 million from the federal government, $4.65 million from the city and $4 million from Santa Clara County.
Vice Chair Asher Waldfogel cast the lone abstention, critiquing the bridge's aesthetic.