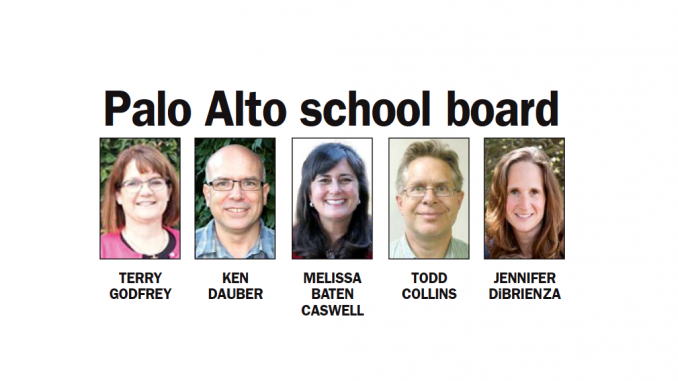 BY ALLISON LEVITSKY
Daily Post Staff Writer
Amid public outrage over mishandling of money and sexual misconduct complaints in the Palo Alto Unified School District, the school board last night (Sept. 13) capped the amount of time community members can give public comment at board meetings.
The public will now be limited to a 30-minute window to comment, with a second, shorter public comment period at the end of the meeting for anyone who didn't get a chance to speak.
Other districts, including Gilroy, Berkeley and Long Beach have similar caps.
At its May 9 meeting, the board saw a whopping 37 speakers give public comment. Board member Todd Collins pointed out that the Los Altos School District limits its commenters to one minute when crunched for time.
Trustee Melissa Baten Caswell liked that idea, quipping that "maybe it's because I'm from the East Coast, where people can talk faster."
The public will still be able to comment on agenda items with no time limit, however.
Two major controversies
The change comes at a time when the board is under fire on two fronts. Parents were outraged to learn earlier this year that a Palo Alto High School student was allowed to return to school after he was convicted of sexual assault, and that administrators failed to launch a timely investigation into a second alleged assault by the youth in a Paly bathroom.
More recently, Superintendent Max McGee has been widely criticized after administrators failed to notify employee unions that they wished to reopen contract negotiations to rescind 3% across-the-board raises. The board had decided to cancel the raises as a budget-cutting move, but administrators failed to reopen the union contract by a March 15 deadline, meaning the raises, costing the district $4.4 million, automatically went into effect.
Extending long meetings
The board voted to change the default meeting end time from 10 p.m. to 10:30 p.m. and only allow for a one-time extension, which they reasoned would provide more clarity on the board's end time than re-extending it several times.
Board president Terry Godfrey said the board needed to build more time in for agenda items, noting that items frequently need to be postponed because the board can't get to everything in one evening.
The district will now also post a sign guiding community members on how to address the board and to encourage the community to submit comments via email.