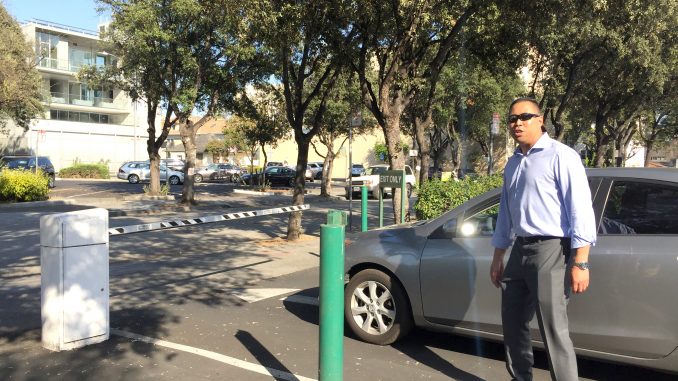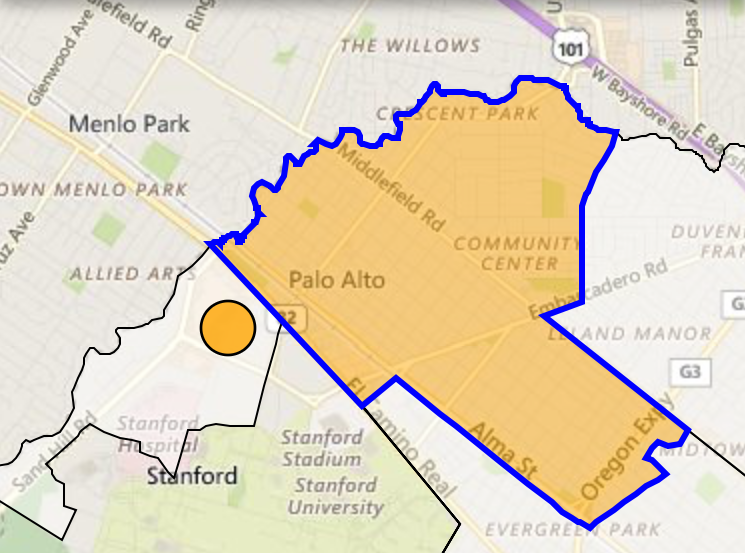 NO POWER — Austin Wong, who works in downtown Palo Alto, found that this parking gate arm wouldn't go up during the power outage. Post photo by Emily Mibach.
The power went out in a portion of downtown Palo Alto yesterday and some people found they couldn't drive out of the parking lots because the arms on the vehicle gates wouldn't go up.
"We were working at our computers and then everything just went out," said Adrianne Fioretti, who works at 300 Hamilton Ave. Fioretti, Austin Wong and their co-workers went downstairs to the parking lot and when one of their co-workers tried to leave, she couldn't. The arm on the gate wouldn't move without power. Wong called the property manager, who was coming to help them out.
Meanwhile, another one of Wong's co-workers who drives a larger car, drove over the median in the parking lot and went out through the "in" driveway.
The outage affected around 280 residents and businesses for two hours yesterday afternoon downtown, including City Hall, and the northern part of Palo Alto.
One city worker said, as she was leaving City Hall, that only emergency lighting was on in that building and that most people were being sent home. The information desk on the first floor of City Hall was closed, with a sign posted saying "closed due to power outage."
The ATMs at Chase Bank had pieces of paper over them saying "Pardon the inconvenience. Due to an emergency, this branch is temporarily closed. We are making every effort to reopen as soon as possible."
The outage was caused by damaged underground cabling, according to a tweet from the utilities department.
The Daily Post, located at 385 Forest Ave., lost its power from 3:30 p.m. to 5:25 p.m. as production of today's edition was underway. The Post was about to get a generator when the power came back on.
However, according to the Utilities Department's Twitter, the 700 block of Ramona Street and the downtown library at 240 Forest Avenue were without power until about 10 p.m.