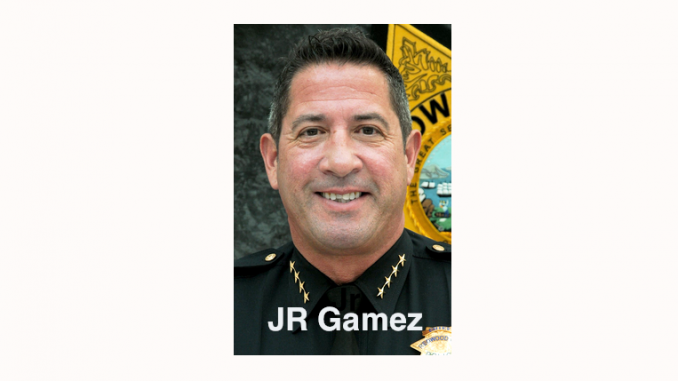 BY EMILY MIBACH
Daily Post Staff Writer
Redwood City's police chief for the past six years, JR Gamez, announced yesterday he is retiring due to a medical condition.
"It is with deep regret and sadness that I have accepted that it is time to listen to my doctors and retire," Gamez, 55, wrote in an online letter to the city.
Gamez, who oversees 125 officers, will step down Dec. 11.
Gamez said in an interview that he has been considering retiring for a while, but about two weeks ago decided to step down because of his health. Gamez did not disclose his medical condition. Gamez said he is most proud that he was able to greatly increase the level of engagement between the police and the community at a time when trust in police is at a low nationwide.
He held town hall meetings, began a program called "coffee with a cop" and launched "adopt a school programs," where residents and students can meet the officers who patrol their communities.
"I don't have the headaches a lot of other police chiefs have when it comes to community trust," Gamez said.
Gamez also implemented bicycle and foot patrol of cops in downtown Redwood City, which improved the relationship between officers and people downtown.
SWAT vehicle
In 2014, the department acquired an armored vehicle that cost federal taxpayers $750,000. The Mine-Resistant Ambush-Protected vehicle was given to the city for free. It was to be used as a SWAT vehicle and for training officers for "critical incidents" such as school shootings, police said.
Gamez said the vehicle will only be used for extreme situations, such as a shooting at a school or business park.
"But thank God and knock on wood that we haven't had to use it," Gamez said.
"My time in Redwood City has been the most rewarding in my career," he said in his letter. "I have had the opportunity to build friendships with many members of our community and city staff that will last a lifetime."
Praise from Wagstaffe
As chief, Gamez worked closely with District Attorney Steve Wagstaffe, who said he was "saddened" he won't be able to work with Gamez every day. But said Gamez is one of the best police chiefs he's seen in Redwood City.
Gamez said he was thankful that the city and community was so welcoming when he came on board in 2011. Gamez spent most of his 31-year career in San Jose. There, he was head of the homicide detail and commander of the city's western division, where he supervised over 375 officers.
Deputy Chief Gary Kirby will serve as interim chief while city officials search for the next chief.
Kirby has already been serving as acting chief on and off for the past several months while Gamez dealt with his health. Kirby has been with the city for five years and also previously worked for San Jose police.