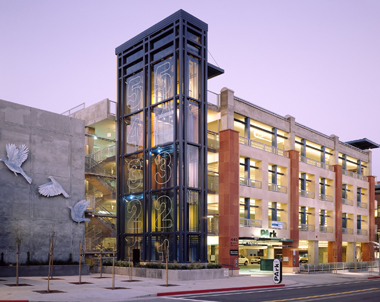 By Matt Niksa
Daily Post Correspondent
A shortage of parking is hurting retailers and restaurants in downtown Palo Alto and in the California Avenue district, not only because it reduces the number of customers but it is also making it hard to keep workers, panelists said at a discussion on local retail issues yesterday.
Peter Katz, CEO of The Counter burger chain with a restaurant on California Avenue, said limited parking has led to loss of employees. He said the parking problem is also hurting business and has become a bigger issue than rising labor costs.
Katz and another panelist, Lori Silverstein, CEO of Peninsula Beauty, agreed that the lack of parking space has discouraged people from coming to stores and restaurants. The city plans to build a 636-space parking garage on Sherman Avenue in the California Avenue District and a 339-space garage at Hamilton Avenue and Waverley Street downtown.
Katz said he wished the city had built more parking garages a decade ago. He said the lack of parking has put a stranglehold on retail and restaurants.
Silverstein said the lack of parking spots has been a problem in downtown for years and has gotten worse over the last couple years. In the past two years, the city has switched to a permit system for neighborhoods adjacent to downtown, which is where a lot of downtown workers used to park.
Their comments came during a panel discussion yesterday titled "Brick and Mortality, the future of retail," which was put on by the Palo Alto Downtown Association.
About 100 people were present, and many were retailers from Palo Alto, Menlo Park and other nearby cities.
The shadow of Amazon
All of the panelists agreed that consumers are trending away from shopping at brick-and-mortar retail stores and are instead shopping at e-commerce websites like Amazon.
The discussion came on the same day that Amazon's market capitalization hit half-a-trillion dollars.
Silverstein runs a Peninsula Beauty store in downtown Palo Alto and 11 other stores in northern California. She said it's common for people looking for beauty products to come to her stores, look for the product they want, then buy the product online because they can find it at a lower price.
Katz, of The Counter, said the growing popularity of online food delivery services like DoorDash means people aren't eating at sit-down restaurants as much as they did 10 years ago.
"This reduction of people going out to eat is especially apparent in the Bay Area, where large tech companies provide restaurant options for employees on their campuses, giving employees little incentive to go downtown for lunch," Katz said.
Panelist Matthew Taylor, senior leasing manager at Westfield shopping center company, said some of the retailers he works with believe there is more upside to selling their products online rather than in stores, but said shopping centers and brick-and-mortar stores still offer some appeal to consumers.
Storefront retail versus e-commerce
"A lot of people like to come to stores so they can physically touch the product they want to buy," Taylor said. "Some store owners are successful in attracting people to their stores, while some aren't. It depends on whether there are things to do within the store to make people want to spend time in it."
Taylor said some Westfield centers are starting to lease space to small medical clinics to give people another reason to go to their local mall.
Some panelists also cited other reasons for why brick-and-mortar retail stores are struggling.
Panelist Jon Goldman, a managing partner of Premier Properties, which manages 40 buildings downtown, said it's difficult to lease downtown buildings to prospective retailers because the space is either too big or doesn't contain a stockroom for goods and supplies.
Panelist Betsy McGinn, founder and CEO of an e-commerce consulting firm that works with retailers, said it's advantageous for new brands that are starting out to sell online rather than open storefronts.
"New brands need to make money right away, and that's very hard to do while they're waiting for brick-and-mortar retail to give them entry into the market," McGinn said. "You can get instant international distribution if you sell your product through Amazon, and you can control your own marketing."
Authentic merchandise
Silverstein said downtown retail should target shoppers who are concerned that products they can buy online may be counterfeit. She said retail stores can target these shoppers by continuing to sell high-quality merchandise.
Palo Alto City Council member Greg Tanaka said the panel discussion was a good reminder that downtown retail is changing.
"The high cost of land in Palo Alto means we won't see a Walmart or a Costco be built here," Tanaka said. "We're likely going to see experiential stores be built here in the future, which are stores that offer interactive, hands-on experiences for customers."
Anna Chow, owner of the Cheeky Monkey toy store in Menlo Park for 17 years, said the discussion was informative, but wished it was longer.
"There's a complex dichotomy between retail and e-commerce, but I don't think it was fully explained in this discussion," Chow said.
(Photo of the S/L Parking Structure downtown. Credit: Watry Design)