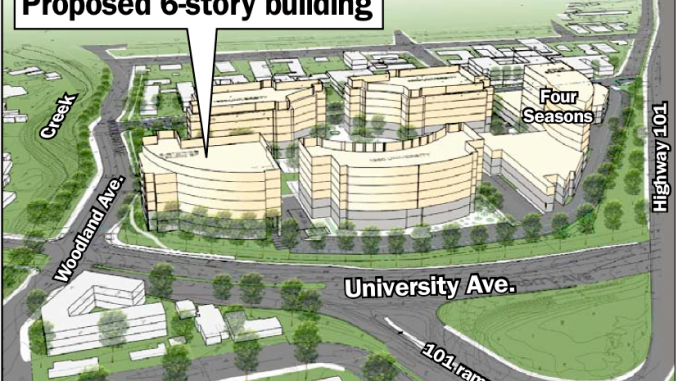 BY EMILY MIBACH
Daily Post Staff Writer
The already-congested University Avenue-Highway 101 interchange could soon be getting some additional traffic.
The owners of the University Circle office complex, which is adjacent to the Four Seasons Hotel, want to build another six-story office building at that East Palo Alto location.
The proposal worries Norman Beamer, a resident of Palo Alto's Crescent Park neighborhood, which borders University Circle.
"It's almost crazy to think that we need more office space in this area," said Norman Beamer. "This will make traffic and density even worse."
Beamer said that members of the Crescent Park neighborhood association got the information about the proposal yesterday. The developer, identified in documents as Columbia Property Trust, wants to construct a 180,000-square-foot office building with four levels of parking.
Columbia sent a letter to the city of East Palo Alto on Thursday asking City Council to provide feedback about the proposal before they formally submit an application.
Traffic
Beamer said he's worried that the traffic along University Avenue will get worse if the office building goes up. Columbia said it will have current and future tenants reduce the number of cars coming to and from University Circle and will put a bike lane on its property alongside University Avenue.
Beamer is also concerned about parking. He said that East Palo Alto residents of the Woodland Apartments and the Westside neighborhood regularly park in Crescent Park due to lack of street parking in their neighborhoods.
He suggested that University Circle allow for East Palo Alto residents to get parking passes and park there overnight.
Palo Alto Planning Director Hillary Gitelman said her office got a copy of Columbia's letter yesterday and her employees are reviewing it.
They're also checking a 1991 settlement stemming from a lawsuit attempting to stop the University Circle development from replacing an area known as Whiskey Gulch.
The lawsuit was settled in 1991 but the settlement will expire in 2023, according to Columbia's letter. Columbia says there is nothing in the settlement that would prohibit this fourth office building from being built.
Earlier lawsuits The suit was brought in 1987 by Palo Alto, Menlo Park and the Crescent Park neighborhood group against developer Joaquin de Monet and the city of East Palo Alto, according to the Stanford magazine Occasion.
De Monet wanted to build two 275-foot towers that would include movie theaters, offices and retail.
The suit was settled in 1991 but Monet wasn't able to move forward because his main tenant, Adobe, pulled out. Developer Linda Law took over the project in the late 1990s. She too was sued but eventually was able to build an office and hotel complex that opened in 2005.