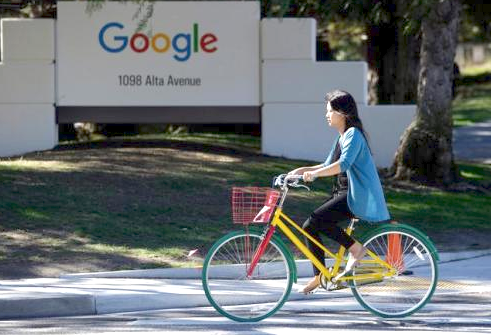 BY ALLISON LEVITSKY
Daily Post Staff Writer
Far fewer abandoned Google bikes have been seen littering Stevens Creek in Mountain View since the dumped bikes hit the news last month, the head of a creek stewardship organization said yesterday.
"Google responded pretty quickly. They did not like the negative publicity," said Aaron Grossman, the executive director of the Friends of Stevens Creek Trail, or FSCT. "Plus, it was expensive for them, losing the bikes." The rainbow-colored bikes, which Google has provided free to employees to cycle around the Googleplex in Mountain View for years, have long been spotted abandoned outside the campus.
A Tumblr site called "Mountain View: Parking Lot for Google Bikes" has been posting photos of the bikes around town at WheresThatGBike.tumblr.com since 2014.
That summer, Stanley Roberts dedicated a "People Behaving Badly" segment to Google bike thieves on KRON 4. More abandoned bikes this summer But this summer saw an uptick in sightings of the abandoned bikes in Stevens Creek. Grossman, who has been involved with FSCT since 2000, said June saw a "big upswing" in bikes showing up, with 15 to 20 bikes appearing at one point along the Mountain View stretch of the creek.
"The most I ever saw in one area was five in a 100-yard stretch," Grossman said, noting that the bikes were in three different areas. "Never before this spring did I see more than one or two bikes." When the bikes started piling up, the news stories about them began. "They were working on it on a lower level prior to when the news stories came out, and then they really upped their game," Grossman said.
Google steps up
A Google spokeswoman said the company has "always" had a team that retrieved the bikes six or seven days per week, but that after receiving more reports of abandoned bikes in early July, Google created a task force to pull bikes out of the creek, increased staffing and upped the number of fleet vehicles and frequency of patrols.
Grossman has run into these new crews himself. "I bumped into a two-person crew, one with wading boots and a grappling hook and rope," Grossman said, noting that he only ever sees one or two bikes at a time. "I no longer pull bikes out of the creek myself."
Of course, Google bikes are not the only item Grossman has seen ditched at Stevens Creek.
"Historically, people would throw washing machines, old tires, really environmentally damaging things into the creek," Grossman said. Grossman said he has seen that kind of pollution go "way down" over the years, explaining that "people care for what they see and can pay attention to."
"As the trail has increased in length and people use it more, I think people observe and care for the creek much better," Grossman said. "It doesn't hurt to have more eyes with cellphones keeping an eye out."